Our Industry Experts Give You The Guidance You Need
You're proud of the manufacturing business you've built, but you may be worried that you're not positioned for growth and success as well as you should be. Maybe your employees lack the training they need to move ahead. Or, you might be concerned about inefficiencies and waste. It's good to know you can count on AIM to help. Our industry experts can provide you with the advice you need to get headed in the right direction.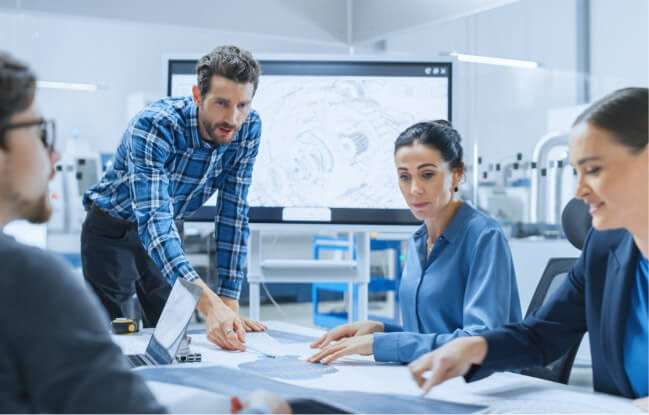 You're concerned about the security of your organization's data, but you may not have the IT resources you need. The unfortunate truth is that it is statistically more likely that smaller manufacturing companies will be victims of a cyberattack. Attacks against smaller companies are typically targeted and planned with the intent of stealing intellectual property. If you're concerned that your company is at risk, one of AIM's experts will be glad to help.
We understand that the number-one business concern from manufacturing employers today is how to find, hire, and retain a highly-skilled workforce. AIM has the experience and knowledge to help guide you through this difficult and time-sensitive situation. We have a toolbox full of potential solutions for manufactures that can have immediate impacts. Call an expert today for your workforce development needs.
In today's world of manufacturing, navigating compliance can be daunting. You want to maximize efficiency, all while ensuring that the appropriate procedures are being followed. Not only is proper manufacturing systems and operations processes important for your workforce, it is also vital for the end consumer. At AIM, we want to help you get the manufacturing systems and operations solutions you need. Let one of our experts help you today.
You need a workforce that is capable of handling the demands of your manufacturing company, but it isn't always easy to find people who can fill these roles. You want people who have a genuine passion for your industry, and the education to back that passion up. With AIM, you can count on us to help you find people ready for apprenticeship in your field. Chat with one of our experts to learn more about our apprenticeship program partnership with SUNY.
As a manufacturing company, your ultimate goal is to provide your customers with the best products in the most efficient way possible. When you're in the midst of growing your business, it can be difficult to stay organized and develop the skills necessary for the next level of success. At AIM, we can give you the proper tools you need to succeed. Talk with one of our experts to learn more about our business development services.
See How Our Experts Have Helped

Electro Metrics needed Cybersecurity assistance to meet required NIST 800-171 guidelines for the Department of Defense supply chain and did not have the internal resources to gather the information required. Paul LaPorte conducted an assessment according to the NIST 800-171 guidelines and provided a full report outlining action steps to meet the requirements. Additionally, AIM also facilitated the purchase of a new server for the company that would be compliant with these guidelines. In the process, Electro Metrics increased sales by $450,000 and retained $1,500,000 in sales, and 3 jobs were created. Funding assistance was provided for both of these projects, which AIM facilitated as well, investing $150,000 in new equipment and $50,000 in new products, with a cost savings of $25,000.
The AIM Team is Ready to Help
Aside from our solutions experts, you can count on the entire AIM team to help meet the needs of your organization. Meet the rest of our incredible team members.
Cyber Security Coordinator
As an IT professional for 10 years, Paul has provided a variety of IT and Cyber Security solutions and training in the fields of engineering, manufacturing, education, commerce, insurance, and more. Paul has an A.S in Microcomputer Technologies: Technical Support and a B.S. in Network and Computer Security. Prior to joining AIM, Paul was the Interim Director of Information Technology at the Utica School of Commerce.
Since 2007, Cory has been assisting manufacturers in the Mohawk Valley through the NY State Manufacturing Extension Partnership (MEP). As the Director of AIM, Cory oversees the manufacturing consulting and technical training programs for advanced manufacturers. Cory works with regional educational institutions to connect workers to current industrial opportunities. Cory is a graduate of SUNY IT and the Director of the Herkimer County IDA Board.
Sr. Manufacturing Consultant
Michael has over 30 years of experience in manufacturing and quality. He brought his manufacturing expertise to Mohawk Data Science as a Test & Quality Engineer and has also worked at Trenton Technologies Inc., as a Quality Assurance Manager and ISO Management Representative. Michael is also a former adjunct instructor in the electronics program at Mohawk Valley Community College.
Coordinator for the SUNY Apprenticeship program
Jon serves the AIM team as a Coordinator for the SUNY Apprenticeship program. With over 25 years of experience in hospitality, sales, staffing, and education, his focus is on creating apprenticeship opportunities and solving workforce needs for our local hospitality, IT, and cybersecurity businesses. Jon is an MVCC alum, with an Associate degree in Food Service Administration, as well as earning a Bachelor of Food and Beverage Business Management from the New England Culinary Institute, and an MBA from Bryant University.
Business Development Manager / project manager
Some of the experience Jeff brings to his customers include having served as Director of the Oswego State University President's Office of Business and Community Development. Jeff held leadership positions with the Oswego County Sheriff's Office, retiring as Patrol Commander, and served as the Executive Director of the Fulton YMCA and of View Arts Center in Old Forge, NY. Jeff holds a degree in Public Administration from SUNY Empire State College.
Coordinator of Workforce Development
Sara began her college journey earning a degree in Culinary Arts. Later on, she returned to school to obtain her Bachelors Degree in Business Administration, majoring in Human Resources. She realized her passion for HR policies and procedures with an expertise in employee benefits, compensation, onboarding and team development. Her greatest achievement is being a Mom to her daughter and son. In their spare time, you will find them on adventures, baking goodies or watching movies. Within the next year, Sara plans on enrolling in a Master's program to further her education.
AIM Coordinator of Workforce Development
Matt has joined the AIM team to serve as Coordinator of Workforce Development. He has over 20 years' experience as a mechanic, machinist, welder, and fabricator. He has also been an adjunct welding technology instructor at Mohawk Valley Community College for the past 10 years. Matt is a graduate of MVCC's Machinist Technology and Welding Technology programs and has a Bachelor of Business Administration Degree in Technology Management from SUNY Alfred State.
Therese is an experienced Project Manager associated with MVCC/AIM for the past four years. Previously, she worked for MVCC Corporate and Community Education Department for nine years assisting companies with educational training for employees and the general public for recreational activities. She has over 20 years of corporate experience as a firm administrator in legal, accounting, and non-profit industries. She is passionate about providing the best possible outcome for area manufacturers and most of all she welcomes the opportunity to assist companies and individuals achieve their growth potential.
Tanya joined the AIM Team as a student worker in the spring 2019 semester. Since graduating from Mohawk Valley Community College, Tanya has significantly contributed as a program specialist and also helps to support the entire AIM technical staff. Tanya also works on a majority of our marketing projects including newsletters, client success stories, and client promotions. Recently, Tanya was the main author and contributor to the NY MEP Cybersecurity Guidebook which was delivered to the Department of Defense manufacturers throughout New York State. Tanya also holds a Bachelor's Degree in Cyber Security from Bellevue University.
$M
COMPANY OVERALL INVESTMENT